The Stars are also a new AAU team, there are some experienced players on the team but this is the first year together for them. Contact coach by using the 'back' button at the bottom of the page & sending an email - it will be sent to the coach. Pics and results at the bottom
Coach Schul

ROSTER:

TOURNAMENTS:
March Madness:
March 15 Stars 38 Cincy Bearcats 32
Apr. 4 Stars 28 - Heat 17 The Stars did an excellent job of feeding the ball into the post. The Heat attempted a rally at the start of the second half and closed the gap. But the Stars called a time-out, got re-organized and scored the next three baskets to build a lead that they wouldn't give up
April 25 Stars 29 Cincy Crusaders 35 The Stars were up at halftime, but just couldn't hang on.
April 26 Stars 22 Hamilton Heat 28.
---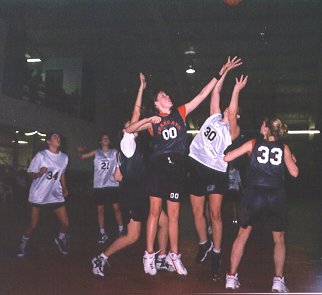 Last update March 16, 1998