2001 Season - Preble Shawnee 4th grade
Since TVS does not have a peewee program Joe plays for Preble Shawnee. This season he getting playing time at tight end and nose tackle.
1st and ten (Joe at tight end)
Kyle heads upfield, Joe and Cameron are blockers in background
Playing in the mud - Joe is behind Carlisle player; Cameron and Kyle
Some folks love to have their pictures taken - but not Joe...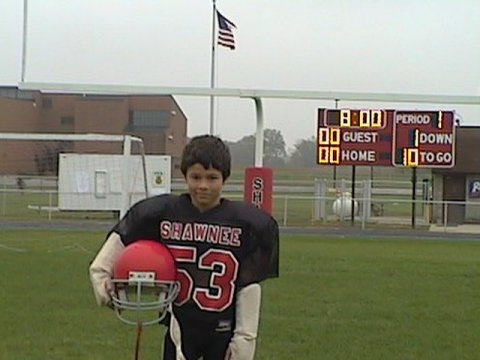 Pics from the 3rd grade team - 2000:
Defense (Joe is at safety, back by coach)
Danny Dillon heading up field.
Offense - getting ready to run a play
YMCA Football 1999:
This is a program that the NW YMCA is running at the Salem First Church of God. Children in grades 1-3 play on a team. No contact, if you have seen ultimate frisbee, you have seen NFL ultimate football, pretty close to the same game. Joe's team is the Packers. Missed the first game, but they are 0-2-2 at this time.
Raiders 24 Packers 0; Bengals 0 Packers 0; Dolphins 6 Packers 6; Raiders 24 Packers 0.
Here are some game pics:
Joe warming up with Coach McDonald
Down, Set... Joe is next to ball.
Joe trying to throw over rusher.